Baked fresh peaches with Himalayan Pink Salt chocolate sauce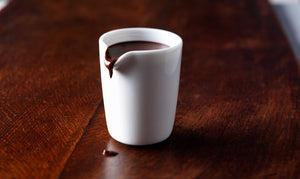 This is a delicious dessert, a favourite in our home. Close your eyes and imagine a dark chocolate salty sauce as it melts in your mouth together with the caramelised fresh roasted peaches. Honestly, a sublime flavour, so easy to prepare and as I cheekily suggest one of our five a day!!
Baked Peaches
2 ripe fresh peaches
20g fresh salted butter
20g soft light brown sugar
Pre heat oven  to 180C. Wash peaches and cut in half remove stones. Place in a buttered baking dish, cut side facing up. Divide small portions of the butter over the centre of the peaches. Sprinkle the sugar over the cut halves of the peaches. Place in the oven for 25- 35 minutes.
Pink Salt Chocolate sauce
2 Himalayan pink salt kokoh chocolate bars
85ml whipping cream
7g unsalted butter
Melt the chocolate and cream together in a heat proof bowl
Over a saucepan of barely simmering water, stir frequently.
When the chocolate has melted, add butter and stir until melted.
Serve warm.
Place two halves of baked peach and juices into a dessert bowl.
Spoon over a good helping of chocolate sauce.
Top with fresh blueberries as a serving option and a little cream, plain yogurt or crème fraiche
This is sublime!